Benard William "Bill" Knirck ~ Class of 1965
June 20, 1947 - September 7, 2002

Rosary Friday, 9/13 at 7pm at Christ the King.
Mass Saturday, 9/14 at 11am at Christ the King.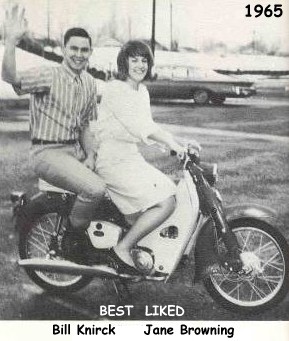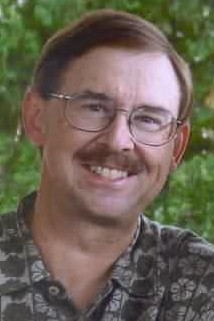 Bernard William Knirck was born June 20, 1947 at Kadlec Hospital in Richland, Washington. Like all baby-boomers who were fortunate enough to grow up in Richland after the War, he cherished his childhood memories of Marcus Whitman, Carmichael and the Chestnut and Birch Street neighborhood. He graduated from Columbia High School in 1965, and never missed a class reunion, where he could share memories with hundreds of friends. He attended WSU for three years, and graduated from the University of Washington School of Pharmacy in 1970. At WSU, he was a member of Sigma Phi Epsilon fraternity, an experience he treasured and relived every chance he had with his great friend and frat brother the late Lonnie Olson. Bill married Teresa DeVine at Christ the King Church on August 17, 1968. They met in 1963, and attended Columbia High School and WSU together. In 1970, they moved back to Richland, where Bill worked for PayLess and Pay ní Save Drugs. He and Teresa purchased Malleyís Pharmacy in 1987, Densowís in his old neighborhood in 1994; and his legions of loyal customers and friends followed him there. It was through his businesses that Bill touched many in the community, and his career as a pharmacist best exemplified the genuine concern and compassion he felt for others. The personalized and individualized attention and care that he paid his customers came to symbolize the philosophy that guided his business and his life. He truly had the ability to charm and touch everyone that he met.

Despite the onset of cancer several years ago, Bill continued to actively pursue his interests. He remained an avid collector of old toys and "little men" and traveled regularly to toy shows and auctions. Bill was a longtime fastpitch softball coach, and he thoroughly enjoyed every minute spent on the field. He also supported Hanford High School athletics, attended basketball, softball, and football games; and yelled loudly and often. Bill also was passionate about Mariner baseball and Cougar football, remaining a Cougar season ticket holder; and, in what has to have been the defining moment for every true Coug, cheering on the Cougs at the Rose Bowl in 1998. His enthusiasm for golf, however, waned in the mid-80ís after the development of a truly nasty slice.

A devoted father and husband, in recent years Bill was proud to celebrate his 34th wedding anniversary, his daughterís college graduation, and on July 20 of this year, his sonís wedding. Those who knew and lived with Bill know that he would rather laugh than anything, and that he was always up for a good joke, practical or otherwise.

Left with wonderful memories are Billís wife Teresa; his daughter Jocelyn, son Jason and his wife Mari; his parents Rueben and Ginger Knirck; sisters Sandi Knirck Schmidt and Karen Knirck Parker; brother-in-law Denny DeVine and his family; and mother- and father-in-law Opal and Frank DeVine. Lifelong friends Roger Fishback, Danny Warner, Jim Newton and many others also remain to honor his memory by laughing and cherishing the great times.

Billís family extends thanks to the staff at Dr. Radoís office, as well as the doctors, nurses and therapists in the CCU at Kadlec., who were so supportive and compassionate during Billís illness.

We love you, Dad, and always will.

Rosary will be recited Friday evening, September 13 at 7:00 pm at Christ the King Church. A Memorial Mass will be said on Saturday, September 14 at 11:00 am at Christ the King.

In lieu of flowers, donations may be made in Billís memory to Catholic Family and Child Services, 2139 Van Giesen, Richland; or Hanford High School Falcon Booster Scholarship fund, c/o Tom Hegarty, 450 Hanford Street, Richland.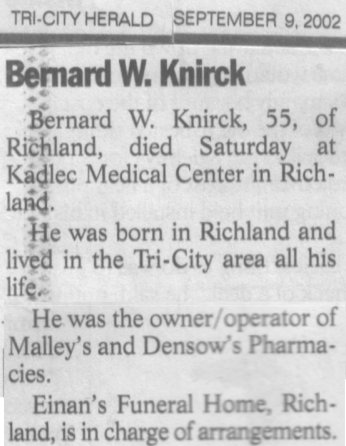 http://www.einansfuneralhome.com/obits.html