_______________________________________
I don't care WHAT it says above this line, it's an ADVERTISEMENT
It's there because this Tripod account is FREE
_______________________________________

CHARLES "CHUCK" OSBORN ~ Class of 1949
February 27, 1931 - October 2, 2003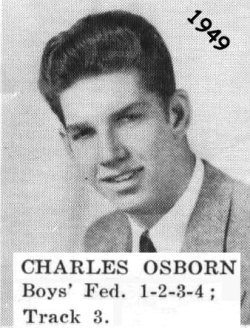 Charles "Chuck" Osborn, 72, passed away Thursday, Oct. 2, 2003.

Funeral: 10am Monday at Western Hills Baptist Church. 
Burial: Greenwood Memorial Park. 
Visitation: 4pm to 6pm Sunday at Greenwood Funeral Home. 

Chuck was born Feb. 27, 1931, in Atlanta, Ga. He was a veteran of the United States Air Force
during the Korean War. Chuck was a Moslah Temple Shriner in Fort Worth and the newsletter
editor of the Fort Worth Thunderbirds RC Club. He retired from LTV in Oct. 1992 after 32 years
of service. 

Survivors: Wife of 49 years, Shirley Osborn of Fort Worth; daughter, Kim Golden and husband,
Gerald of Monroe, La; son, Kelly Osborn and wife, Mary of Fort Worth; grandchildren, Raymond
and Leia Golden and Joshua and Rachel Osborn; sister-in-law, Joelene Osborn of Seattle, WA.;
sister, Rose Marie Giffin of Wisconsin; and many friends. 

Published in the Star-Telegram  on 10/5/2003.