Daniel A. Breard, III ~ Class of 1950
September 6, 1932 - August 16, 2003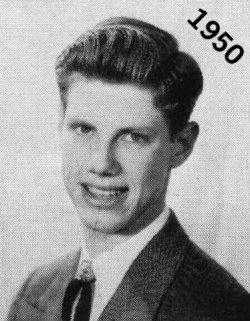 Daniel A. Breard III, of Olympia, WA, passed away on Saturday, August 16, 
2003. He was born in Monroe, LA on September 6, 1932, to Daniel A. Breard II
and Julia Dean Breard.

Dan served in the military for twenty-one years, and was stationed at various
military installations in the U.S. and overseas. As a Lt. Colonel, Dan flew
helicopters in the Korean and Vietnam conflicts. Upon retirement from the
military in 1972, he worked for the Department of Revenue in Olympia,
retiring again in 1995.

Dan was a people person. He especially enjoyed anything to do with flying.
When his piloting days were over, he built and flew remote model airplanes,
enjoyed boating around Puget Sound and fishing, and was an active member of
Gyros; he enjoyed all the friends of these endeavors. Dan was also very
attached to his animals.

He is survived by his wife, Leota; son, Daniel A. Breard IV (Linda), and
grandson, Danny; daughter, Lee Ann Flynn (Jim), and grandsons, E.J. and
Patrick; brother, O.D. 'Bud' Breard (Carol); sisters-in-law, Betty Aurdahl
(Glen) and Kay Heilemn (George); stepdaughters, Vickie Hill (Dell) and
Christy (Brian); brother-in-law, Mike Jolly (Linda); 11 grandchildren; 3
great-grandchildren; and 6 nieces, 5 nephews, and their children. Dan was
preceded in death by his parents and by his youngest brother, Robert 'Bobby'
Breard. 

Dan will be truly missed by all, especially Leota's daughter, Colleen Snider,
and grandson, Kyle Snider, whom Dan cared for and treated as his own.

A special thanks to doctors and nurses at Madigan Army Hospital for their
great care and support.

Graveside services will be held on Saturday, August 23, 2003, at 11:30 a.m.
Arrangements by Woodlawn Funeral Home, Lacey, WA. A gathering of
family and friends will be held at the family residence immediately following
the service.

Fly high with the angels, but know our desires for your 'touchdowns' in our
hearts. 

Published in the Tri-City Herald on 8/21/2003.