_______________________________________
I don't care WHAT it says above this line, it's an ADVERTISEMENT
It's there because this Tripod account is FREE
_______________________________________

JIMMY LEE CRAWFORD ~ Class of 1951
June 12, 1931 - 2003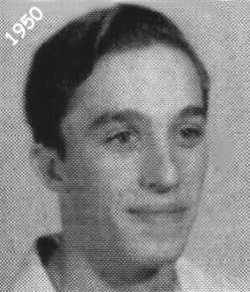 ~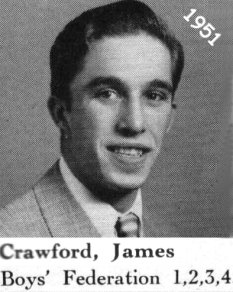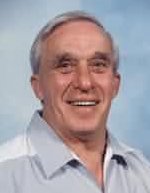 Jimmie Lee Crawford, 72, passed away on November 27, 2003. He was born on June
12, 1931 in Bartlesville, OK. He moved to Richland, WA in 1945 with his
family. In March of 1951, Jim joined the Air Force. He served 1 year in Korea.
He was discharged in 1955 in Ogden, UT. He went two years to electronic school
and then went to work at Hill Air Force Base as a civilian employee. Jim
retired as a buyer for airplane parts from the Civil Service in 1988.

During his early life he enjoyed fishing & hunting. He always enjoyed
woodworking & later on learned to do stained glass. Jim was also an antique car
buff. He re-met his high school sweetheart, Phyllis O'Reilly Ratsch Carney ('51),
and they married March 1, 1997. Jim & Phyllis enjoyed their retirement to the
fullest. They were snow birds and divided their time between Gold Canyon, AZ
where they owned a home and Richland, WA. They particularly liked exploring
all of the desert around their home by the Superstition mountains in their '63
Ford Pickup. He and Phyllis were together all the time and enjoyed each other's
company immensely. They also enjoyed seeing and being with their families.

Jim is preceded in death by his father and mother, Charles and Ruth Crawford,
sister Faye Catlin, brother Don Crawford, and sons Mike and Donald Crawford
and a little infant sister that did not survive birth.

He is survived by his beloved wife Phyllis, son Richard Crawford and his wife
Shannon, granddaughters Kaitlyn and Aisoyn Crawford of Gilbert, AZ; his sister
Freda Gross of Richland, WA; sister Marian Crawford Marsh ('47) and her 
husband Don of Scottsdale, AZ; stepsons Mike Carney and wife Julie of Bellingham, WA; Jeffrey
Carney and wife Carol - step grandchildren Keefe, Corinna, Caylor and Kiera of
Richland, WA; Stepdaughter Jill Molnaa and husband Dave of Richland, WA -
step grandchildren Holly Larson and husband Shawn of Pasco, WA and Dustin
Funderburg of Richland, WA; Stepdaughter Bridgette Woods-Carney and her
husband Shane - step grandchildren Reilly and Haley of Bainbridge Island, WA.

Rosary will be at 7:00pm at Einan's Funeral Home on December 3, 2003. A
memorial service will be held at Christ the King Church in Richland, WA on
December 4, 2003 at 10:00am followed by graveside services. Viewing will be
from 12:00pm until time of the rosary. 

In lieu of flowers, please make any contributions to the Tri-Cities
Chaplaincy Hospice House, 2108 W. Entiat Ave., Kennewick, WA 99336. We want 
to thank Jim's nurse Sarah, and Dr. Cooper for all their wonderful help.
Contributions can also be made to St. George Catholic Community, in care of
Fr. Stan, 300 E. 16th Ave., Apache Junction, AZ 85219.