Jerry Neil Culverhouse ~ Class of 1951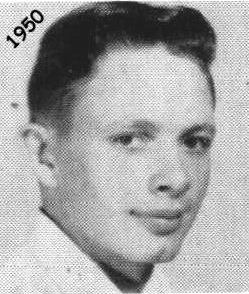 ~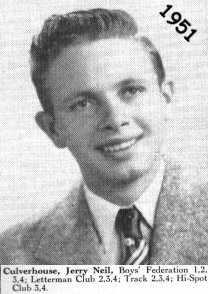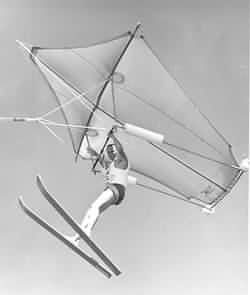 Jerry N. 'Culver' Culverhouse Richland, WA
September 30, 1932 to January 8th, 2003



Our husband, dad, grandpa, brother, uncle & ''stud'' ski buddy has passed on in the comfort of his home surrounded by family. Ironically on the same day Jerry's new grandson ''Gunnar'' was born to Thor & Susan Culverhouse.

Jerry was born in Pampa, Texas to Glen & Helen Culverhouse. He was best known for his quiet and easy-going disposition along with always wearing a friendly smile. Jerry is survived by his wife of 33 years, Betty, his daughter Neila (Tim) Reining, sons Mark (Jana) Culverhouse, Eric Culverhouse and Thor (Susan) Culverhouse. Also, Jerry's sisters Glenna (Roy) Cline, Barbara (Jim) Snyder and his brother Terry (Paula) Culverhouse. Jerry had 9 Grandchildren and 5 Great Grandchildren. Additionally, Jerry's daughters in-law that have remained close and supportive are Deborah, Terri & Jill.

Jerry's true love was his wife, family and water skiing. Jerry and Betty did everything together, especially enjoying many years of watching their kids play sports. He never cared so much about winning or losing, but just that we tried our best for the team and that we showed good sportsmanship to all. Other great memories were the unforgettable years of summer vacations on the Columbia River, Diamond Lake and Priest Lake with the entire family and many close friends skiing behind the Sakatumi, fishing, playing cards and late night 'festive' camp fires.

Jerry was known around the house as Mr. ''Fix it''. There didn't seem to be anything that he couldn't fix from cars, home appliances, everyday carpentry and home remodeling while passing these skills on to his kids. After retiring from Battelle, Jerry enjoyed ''tinkering'' in his shop with wood working projects making patio furniture and toys & gadgets for the grand kids.

Jerry was actively involved in the early days of the local water ski club. Over the years he enjoyed showing his stuff by flying the kite, sliding over the jump and marathon barefoot runs

into his 50's. He exhibited a true passion for teaching so many young kids how to waterski. His endless patience and love for the sport made for so many fun and happy memories for all of those around Jerry.

The family requests that memorials be directed to Tri-Cities Chaplaincy-Hospice Services, 2108 w. Entiat, Kennewick 99336. PH# 783-7416. They have been incredible... Thank You.

All those that were friends of Jerry and his family are welcome to join the Memorial services to celebrate Jerry's love for life at Einan's Funeral Home in Richland on Saturday January 11, 2003 at 4:00 PM with the reception to follow at the Knights of Columbus Hall.

Though you are off to a better place, we will miss you 'Culver' .You are the ''King of the

Columbia River'' and we will always remember the fun and happiness you created & shared!