Ramona Miller Montgomery Garcia Bruggeman ~ Class of 1954
June 15, 1936 - August 13, 2003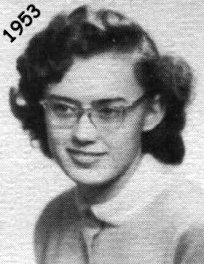 ~~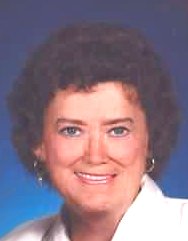 At the young age of 67, our wonderful mom, wife, nana, sister, aunt, and
friend, Ramona Miller Garcia Bruggeman died at Kadlec Hospital. Her son Tim
held her right hand and her daughter Debbie held her left, while other family
members remained near. Our hearts are simply broken; if it weren't for her
sure passage to her Lord in Heaven, the grief and sorrow we are feeling would
be nearly unbearable.

Ramona, known as "Punkie" to her two older brothers, was born in Cambridge, MN 
on June 15, 1936 to Jacob J. and Esther E. Anderson Miller. She spent the 
first eight years of her childhood ice skating and watching her two older 
brothers, Gordon J. "Jack" and Harold J., play hockey on frozen Minnesota 
lakes. In 1942, Ramona accompanied her mom and brother Harold to Richland, 
where her dad had secured work as a patrolman at Hanford and had been able 
to acquire an "F" house at 1513 Mahan for his family. Although Ramona found 
Richland to be a wonderful place to live, she always cherished her extended 
family and the memories of her ties to Minnesota.

Ramona attended Richland's old Sacajawea Elementary, Carmichael Junior High,
and Columbia High School, graduating a proud Bomber in 1954. On 6-25-55, at
the age of 19, Ramona married Harvey Andrew (H.A.) Montgomery. To this
marriage two children were born. Timothy John Montgomery blessed his parents
with his arrival on April 22, 1958, followed by his little sister, Deborah
Jean Montgomery Bell on February 9, 1960. She always reminded us that "having 
you kids was the best thing I ever did in my life." During her marriage to 
H.A., Ramona was a secretary first at Richland Baptist Church and later at 
the First Baptist Church of Richland.

On August 21, 1971, Ramona wed Ivan M.A. Garcia at their new home on Camas.
The years Ramona spent with Ivan until his death in January of 1996, were
abundant in all things good. We all share many loving memories of The King
and Queen of Camas. With this marriage, Ramona gained stepsons Michael and
Ricardo, and stepdaughters Francine and Laura. During her marriage to Ivan,
Ramona flourished professionally. Ivan inspired confidence in his wife. With
her innate ability to build strong relationships, her well-honed skills, and
her intelligence, Ramona worked her way to become a top executive secretary
at Battelle. When Jerry Finnigan left Battelle and moved to the Joint Center
for Graduate Study, Ramona followed. She retired as the Dean's Administrative
Assistant at Washington State University Tri-Cities 1996.

Ramona wanted a grandchild more than anything. She sent little hand-crocheted
booties by mail to her daughter's house (hint, hint) years before her one and
only, precious grandson was born. On September 9, 1994, Ramona first held 
her newborn grandson, McCade Montgomery Bell. She always told him he was her
reason for living; how she loved her "yellow-headed boy and couldn't wait to
see him and kiss his sweet knees."

In the spring of 1999, Ramona was reacquainted with a high school classmate,
Larry Bruggeman ('54). They celebrated a beautiful wedding in the Baptist 
Church in Leavenworth on November 20, 1999. They have enjoyed their three 
years of companionship together and their families have enjoyed unity and 
friendship. As a family, we are sincerely appreciative of the love that Larry 
brought to our mother and family.

Ramona was preceded in death by her parents, her brother Harold and his wives
Betty and Martha, and her former husband Ivan. She has left a legacy of love
in her husband Larry Bruggeman, her children Tim (Teresa) Montgomery, and
Debbie (Norm) Bell, her brother Jack Miller (Trudy), and her one-and-only
grandchild, McCade Bell. She also leaves behind nephews "Jackie"(Lisa) and
niece Leslie, nephew Klaus (Louise), niece Marilyn (Doug) and loving extended
family members in Minnesota. Ramona also would consider in her heart many of
her childrens' friends, her co-workers, and her neighbors as her family. Rest
in peace you sweet, sweet person; we will miss you until we see you again.

Graveside services will be held at Sunset Memorial Gardens, Richland, at
2pm on Tuesday, August 19th, 2003. A reception will immediately follow at
2351 Camas, Richland. Please feel free to join Ramona's family and friends 
at both the service and the reception.

Express your thoughts and memories in the Einan's online guestbook at
http://www.einansfuneralhome.com/obits.html. Search for Bruggeman.